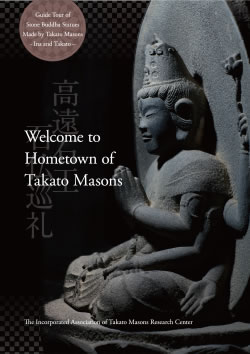 「Oriental Michelangelo  ~Sadaji Moriya」
Welcome  to Hometown of Takato  Masons
In rural districts in Japan, you can see many stone Buddha statues.
In this area, Ina and Takato with preserved scenery of the Edo period,
there are quite many statues and monuments, and they have been
maintained in good conditions.
Brand in Edo Period, Masons Popular across the Country "Takato Ishiku"
Ishiku(masons)is called as Ishidaiku(stone carpenter).
Expert mason with sophisticated techniques is artist.
Takato masons went around country as "Travering Masons" by creating
stone works. Sadaji Moriya  is the best mason in Takato Masons, having
engraved a lot of excellent stone Buddha statues.
He's called Oriental Michelangelo.
Kempuku-ji  Temple(A Buddhist temple in Takato in Ina City )is core
in the tour of stone statues made by Takato Masons. 40 stone statures made
by Sadaji Moriya, a master of "Takato Masons" kept in here.
Takato is membership of "The most beautiful villages in Japan" Union.
inashi-kankoukyoukai.jp/takato_masons
For inquiries:
General Incorporated Association of Ina City
Shimoshinden 3050 Ina-shi, Nagano Prefecture 396-8617 (Ina City Hall Tourism Section)
TEL.0265-78-4111 (substitution) FAX.0265-78-4131
E-mail ikk@ikk.inacity.jp